Underwater museum opening in Spain !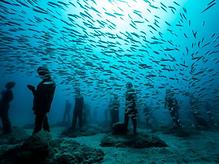 You just dream to freediving and snorkeling with some creating art on the sea? The artist Jason Decaires make it real for all snorkelers and freedivers in Europe, on the Island f Lanzarote, this museum will be allowed for snorkeling and freediving.
Submerged at depths of between 12 and 15 meters on the seafloor of Las Coloradas bay, the enigmatic human figures will help form part of an artificial reef, acting as a breeding site for local species.
Says DeCaires Taylor, "I want it to inspire people to understand more about our oceans and the threats facing it."
The sculptures include one titled "Content," showing a couple taking a sub-aquatic selfie. Another, "The Rubicon," involves 35 human figures walking beneath the waves.
This video
show some of the artworks being lowered into the water in February last year, shortly before it first opened to the public.