Escape and travel with our freediving stage in Indonesia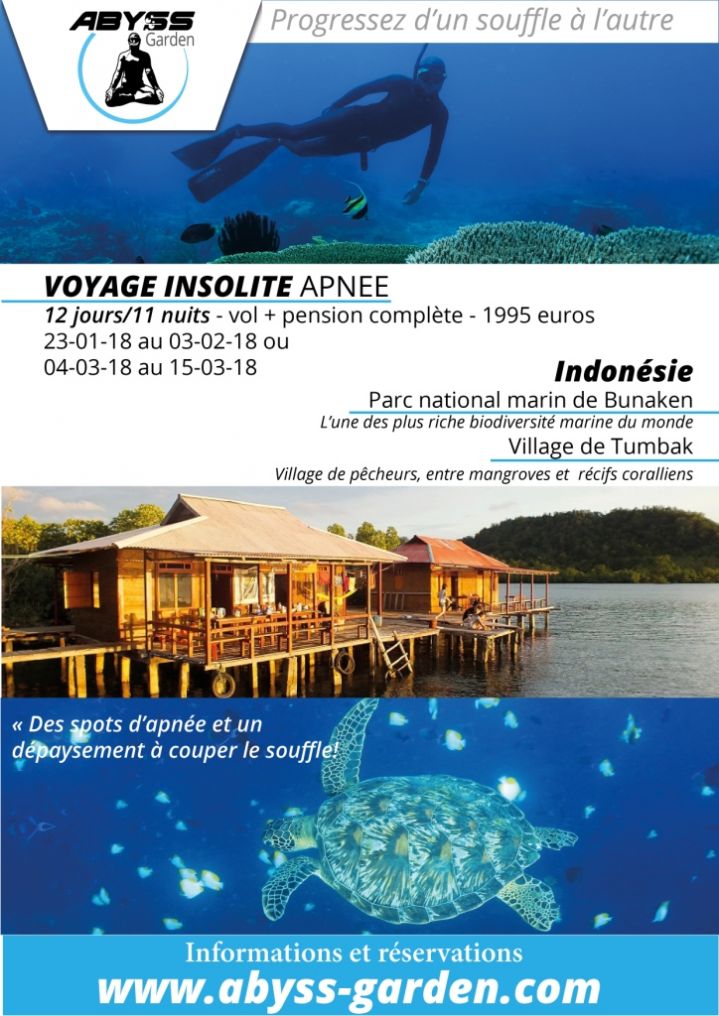 Tempt yourself by our freediving stage in Indonesia!
Guaranteed change of scenery with this freediving training course
ABYSS Garden organizes since a few years a freediving stay in Indonesia with AMV Subocea, specialist of travel ans dive. This course took place to Tumbak, fisherman's small village between mangrove swamps and cliffs. Last year, we took advantage of it for propospecter to propose you a journey in 2 stages : Tumbak and the national park of Bunaken.
The program of this freediving stage in Indonesia for 2018 will be the following one:

- 7 days to Tumbak,

- 1 day of excursion / trek on a volcano close to Tumbak,

- 3 days in the National park of Bunaken.

Every day, a freediving session will be set up on a different spot, to observe the biodiversity. For the happiness of all, the program can evolve according to the desires for each!

Accommodated in an authentic cottage, you will discover the small village of Tumbak. The village is situated in a lagoon formed by a main island of 110 hectares, also namedTumbak, and of seven islands which give a particular configuration to the site. The neighborhood of Tumbak offer an exceptional diversity of ecosystems.The village of Tumbak is even singular because partially built on piles and based by a community of Bajos, fishermen, settled on the site in 1918. Tumbak keeps a particularly rich traditional lifestyle exclusively turned to the sea and fishing.

The submarine park of Bunaken covers more than 890 km2 of the Sea of Celebes as well as five islands: Siladen, Montehage, Dwarf, Manado Tua and Bunaken - Which gave the name to the park. Diving spots near islands are considered as the richest to the world. The marine national park of Bunaken is considered as its inombrables tortoises and pelagic of all kinds! As a matter of fact, the park of Bunaken is the destination dreamed for the enthusiasts of snorkelling especially as the falling of corals are accessible a few minutes away from the beach.

During this freediving stay in Indonesia, you will take advantage of incredible spot of freediving, will eat the day fishing on still deserted islands, the whole in a water in 29 °!

We propose you two freediving training courses in 2018:

- From January 23rd till February 3rd, 2018

- From March 4th till March 15th, 2018

The reservations are opened online : freediving Indonesia travels
We remain available for any further information!