The freediving competition "NUC cup": it was December 2nd!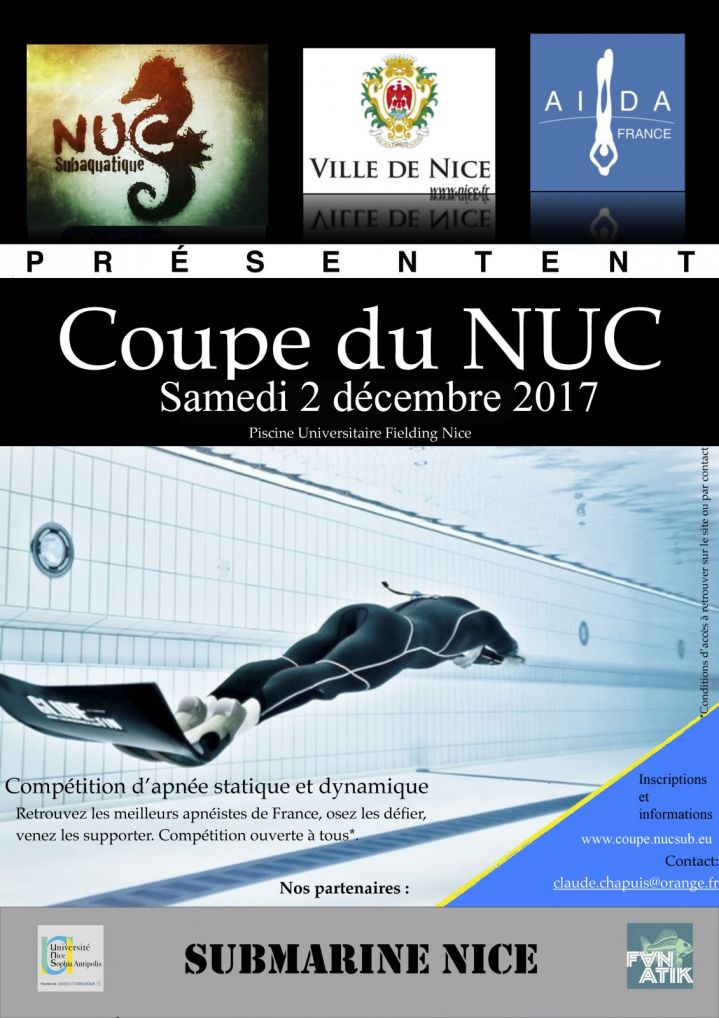 Two events on the program of this freediving competition: static freediving and dynamic freediving with or without fins
Beautiful freediving performances during this competition
In collaboration with Faculty of Sport Sciences - UFR STAPS Nice, Suaps Nice University Nice-Sophia Antipolis, City of Nice, Submarine Nice Diving Fanatik, Pierre Vigouroux and AIDA Federation France - Official, 40 students in sport welcomed 30 athletes including 3 Russians from Saint Petersburg.
It was the first AIDA competition on the 3 of the circuit. Two tests were on the program: static apnea and dynamic apnea with or without fins.
We note a good performance of Vincent Mathieu (Eclipse) with 7'24 in static freediving.
and 4 girls beyond 100m in dynamic apnea without fins including 3 regional: Joanna Bourrien 112m (BeFree),
Lydia Horel (NUC) 107m and Hinatea Penilla Marere (CIPA) 100m; but it's Ekaterina Vasilyeva with 114 who wins!
With fins, Gilles Gambini (NUC) with 125m and Anne Maury (CIPA) with 115m win respectively for men and women.
If you want to progress in freediving and participate in competitions, our freediving school offers freediving courses and personalized training sessions. Do not hesitate to contact us for more information. See you soon!