Pierre Frolla and fun freediving : he glides under the sea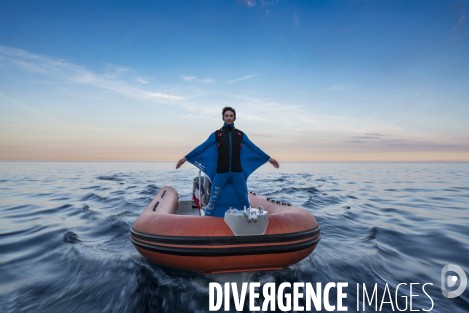 Fun freediving not as the others!
Pierre Frolla reveals his new suit to glide during his fun freediving
OCEANWINGS : it is Pierre Frolla's new challenge, glide under the sea: of new sensations, other meetings, another way to merge with the sea. Alexandre ROSENFELD followed him during the first try of his suit a little unusual freediving!
We knew the flight wingsuit, jump was made by means of a suit of supple jump in the shape of wing. The latter is used in the extreme sports, in particular by parachutists to modify the friction of the air on their body to increase the portance. These suit swell of air as soon as the parachutist dashes(launches) down from a cliff or goes out of the plane.They allow to reduce their speed of fall by converting her quickly horizontal. A flight wingsuit ends by the opening of a parachute.
Thus we discover to make today how doing fun freediving by gliding under the sea!
While waiting for to have the same freediving suit as Pierre Frolla, come to discover the sea of La Ciotat in our freediving club ABYSS Garden. You are proposed fun freediving every week!