The dates of the 2022 freediving courses are online!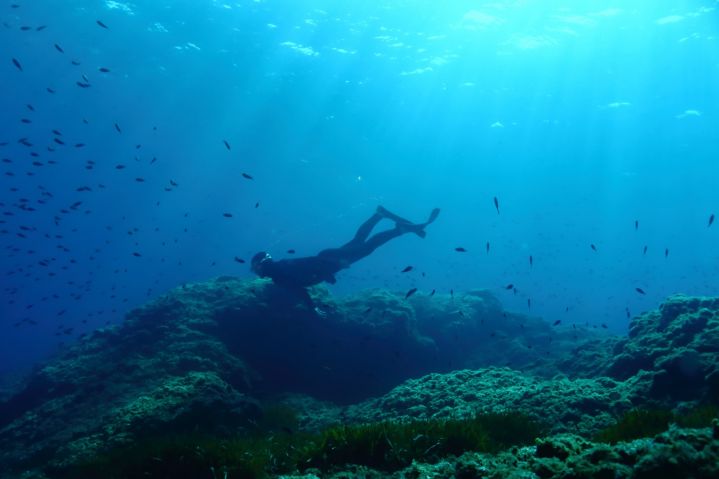 Freediving courses in La Ciotat, near Marseille
Our freediving center offers many dates for freediving courses from April
ABYSS garden is above all a small family structure where education, well-being and good humor are essential! Our team is made up of 2 freediving instructors and a manager.
Lisa and Benoit, the founders of the structure are committed to keeping a "small structure" spirit to welcome you in the best conditions. Gary, our main instructor follows this mindset perfectly and offers you quality freediving courses. With us, you will be 4 to 5 maximum with the instructor for your freediving course, this allowing to keep proximity and good pedagogy! We program many dates for freediving courses so as not to saturate the days.
Freediving courses Made in ABYSS Garden
Discover all our snorkeling courses, on the Mediterranean spots of La Ciotat, Cassis and Marseille! Benoit and his team will give you an original experience, that of the moment between two breaths: relaxation and letting go have been the hallmark of ABYSS Garden's apnea training since 2011.
FFESSM, AIDA, PADI, SSI, etc .... there are many organizations in apnea and we don't really understand the differences. To the detriment of knowledge, we sometimes rely on the enhancement of certification.
With ABYSS Garden, progress thanks to our freediving courses only according to your experience and your expectations, with a professional freediving teacher, this is why the depths indicated on each course correspond to the depth necessary to start each one. of these internships.
And thanks to the online school (exclusive to ABYSS Garden), your online training booklet and your technical sheets will also be there to help you progress, and will remain accessible after your internship!
Freediving levels
ABYSS Garden is affiliated with AIDA international and FFESSM. Depending on the desired level, a day of à la carte lessons complementary to your internship will allow you to obtain your certification with the know-how of an experienced instructor and you can take your theoretical exams directly at our online school.
To get :
- a level AIDA 2 * or FFESSM Free water freediver, you need 2 days of training
- an AIDA 3 * or FFESSM level Confirmed open water freediver: 3 days of training
- an AIDA 4 * or FFESSM level Expert open water freediver: 4 days of training