AIDA freediving course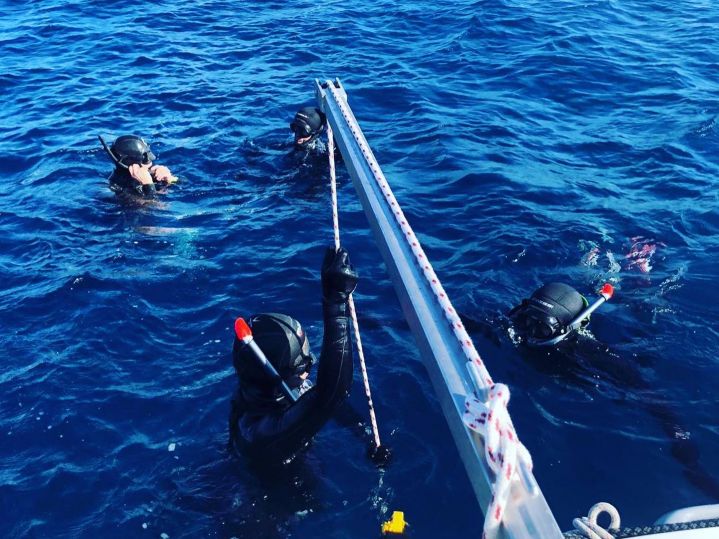 A freediving course to improve you and validate an AIDA level
3 days of freediving training at sea
Our freediving center is affiliated with the AIDA federation, the essential of freediving worldwide. We thus offer AIDA 1 * to 4 * training as well as AIDA instructor training thanks to our qualified freediving instructor Benoit CANELL.
The AIDA 3 * freediving course takes place over 3 days. You will learn the basics of training, physiological aspects and compensation techniques related to depth, improve your breathing techniques and mastery of free fall, a real invitation to let go! The course will take place mainly at sea with a variety of technical briefs and theoretical sessions. Also on the program: video rectification and strectching session.
It is a complete freediving course that will allow a certain progression in 3 days with the advice of a professional instructor. You will benefit from access to our online school including your AIDA 3 * manual.
The next dates for an AIDA 3 * freediving course are as follows:
- September 14, 15 and 16, 2021
- October 2, 3 and 4, 2021
- October 6, 7 and 8, 2021
- October 13, 14 and 15, 2021
You will be 4 trainees maximum with the instructor in order to offer you maximum comfort and optimal proximity to progress during this freediving course.
Information and reservations: 06 80 75 59 96; contact@abyss-garden.com
ABYSS Garden is a 100% freediving center
Created in 2011, our freediving center is recognized for its pedagogy and professionalism. We strive to always offer you more and have implemented:
- our online school with its digital educational support accessible via smartphone, tablet and PC
- an online shop to offer you quality equipment selected by us shop.abyss-garden.com
All our instructors are professional and experienced (DEJEPS or BPJEPS, AIDA, FFESSM).