Advanced freediving course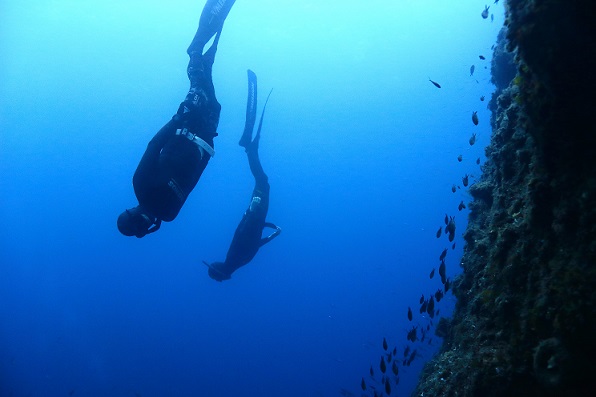 A freediving course to progress
Our freediving school offers freediving courses adapted to each level
ABYSS Garden is a 100% freediving center affiliated to the AIDA and FFESSM federations. Our professional instructors will make you discover all the techniques of freediving to progress and have fun during your freediving courses.
Since your satisfaction is our priority, we only take 4 or 5 trainees per instructor. This allows us to be as close as possible to your expectations and your freediving progress.
Intermediate freediving course: is it right for me?
The next intermediate level freediving course will take place on June 19 and 20, 2021.
This course is for you if you already practice freediving or spearfishing, in a club or in a self-taught way, and you are already comfortable at 15m depth and more.
The program of this freediving course
During this freediving course, you will learn the basics of training, the physiological aspects and compensation techniques related to depth, improve your breathing techniques and mastery of free fall, a real invitation to let go!
All the technical aspects to improve your freediving will be discussed, and you will then be autonomous to be able to train and improve your depth of evolution on each of your outings.
1 relaxation / stretching session
3 technical sessions at sea
1 safety / exploration session on site at sea
1 video rectification session

The testimonies of freedivers who have already done this freediving course
"I did the" Optimize your depth "freediving course and it was a great experience! The instructors I had are really very qualified, attentive, and available. The logistical part of the club is good oiled and optimized, and in the water safety is always the number one concern. I really learned a lot in a very pleasant atmosphere, I highly recommend! "
"Always so competent and generous. Thank you for all your advice, your availability and your kindness. I still had a great internship, very formative."
"Great freediving course, I highly recommend!
A very varied and educational weekend "
How can I get certified?
For those who wish to obtain an AIDA *** certification at the end of this freediving course, it will be necessary to schedule an additional day (130 €) at your course.
To reserve your place: it's over there!