Beautiful weather: freediving training Friday afternoon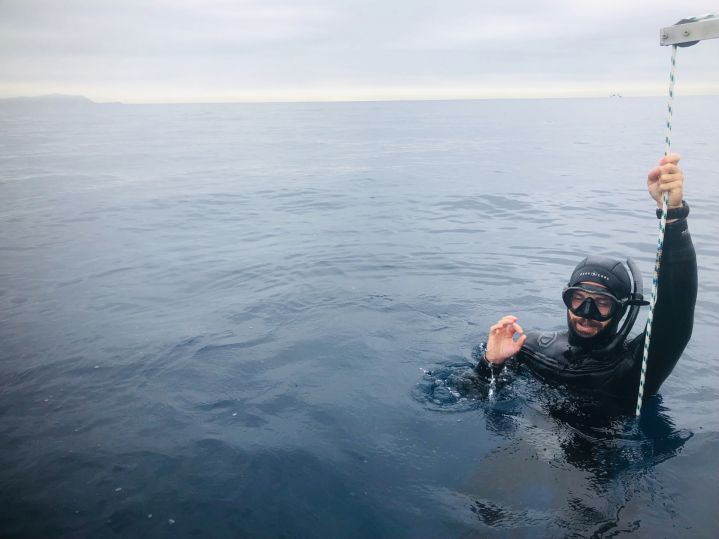 Our freediving center offers freediving training every week
Join us to practice freediving in La Ciotat
The practice of freediving in a swimming pool has been complicated for a year ...
The practice of freediving at sea has been possible for a year for our greatest happiness! Our freediving center in La Ciotat organizes freediving courses, freediving courses and instructor training, but also a very user-friendly format : the club with freediving sea trips every week. The sea trips are organized for half a day (exceptionally a few day trips during the year) with freediving training and explorations. Until the end of April, we offer one outing per week. From the beginning of May, several freediving trainings will be scheduled each week so that you can choose the time slot that suits you for apnea training or exploration.
Thanks to these sea trips, ABYSS Garden offers you the opportunity to progress in freediving in a friendly and safe environment. You will find within the freediving club, beginners & experienced freedivers, sharing the same passion for vertical freediving. If you wish to benefit from a personalized course during these sessions, it is possible, just contact us to reserve your place. A coach, freediving instructor, will provide you with all the advice you wish to benefit from in order to progress on the theme of your choice: relaxation, compensation, verticality, ...
The next freediving training will take place on Friday March 26, 2021 from 1:30 p.m. to 4:30 p.m. Registrations are made by email or by phone with Lisa : 06 80 75 59 96 contact@abyss-garden.com
The price of a half-day sea trip is 30 euros. If you want to come to the club regularly, we advise you to buy a booklet of 10 outings at 235 euros. And for the more "freediving enthusiasts", we offer an unlimited formula.
See you soon at ABYSS Garden!
The freediving club to "progress from one breath to another".